Let me start by saying I love Warhammer 40K.  I love the universe, the Black Library books and authors are fantastic, and the game is generally fun, interesting, and has evolved in interesting ways (even if there are enough quibbles with the rule set to start a fresh Horus Heresy!)
However, I'm not as keen on GW as a company these days.  I've personally found some of the employees of GW to be pushy, unpleasant, and of an aggressive opinion that GW can do no wrong.  Everyone makes mistakes, so that tends to wind me up!  Suing authors for using  the term "space marine", a term that predates GW by a significant margin is not exactly great work, for example.
With that in mind, I thought I'd take a look at alternatives to GW models for various forces in the 40K universe.  These are just my opinions as to what you could use the models for, rather than what they are being sold as – you may disagree, or feel they'd be better as something else.
Chaos Space Marines
I've never found much in the way of alternative Chaos Space Marines.  It's a very iconic look, which doesn't lend itself to alternatives terribly well!
However, Evilcraft do a fantastic set of Chaos looking troops in power armour with bolt pistols and bolter style weaponry.  Very cool, and ornate enough to be used as chosen if you just wanted some specialist models.
Puppets War do quite a good range of conversion bits, much of which is suitably spiky for the forces of Chaos.  In terms of straight models, they have a great squad that work work as a Raptor Squad.
They also have a reasonable number of troops that are probably better guard proxies, but would make OK cultists.  They also have some cracking zombies, for Nurgle plague zombies.
On the zombie front, Hasslefree Minis do a great, and cheap, set of zombie plastics.
And finally on the zombie/cultist front, Mantic Games do a great range of plague zombie marines:
Raging Heroes have a cracking model that could be could as a Nurgle general.
Zealot Miniatures do a model I think would work well as a chaos spawn.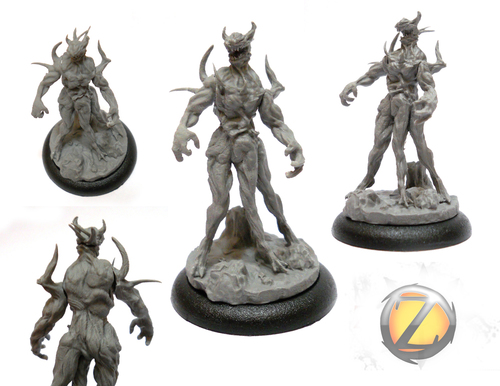 Scibor do a small range of Chaos terminator types, which could be could for chaos lords.
Chaos Demons
Raging Heroes do some amazing Preying Mantis models, which would make fantastic Daemonettes.
They also do a great demon option for a Daemon Prince or Greater Daemon of Khorne.  You could probably get away with the smaller version as a Chaos Lord in a CSM force.
Puppets War do some good demons too. I love the thought of fielding Plague Bears instead of Plague bearers!
Avatars of War do fantasy models, but that isn't a problem for Daemons!  They do a couple of cracking models that would make amazing Heralds of Khorne and Nurgle.
Maxmini do a fantastic line of Nurgle style demons, from Greater Demons:
Through smaller plague bringers, which would make a good herald:
Zealot Miniatures do an interesting Greater Demon of Khorne style model:
Imperial Guard
Imperial Guard are the closest thing in the 40K universe to standard human soldiers, and so are probably the easiest army to find decent alternative models for – for the infantry, anyway!
Mantic Games have their Corporation Army range, which are perfect guard replacements on the whole.
Interestingly, I've seen their Veer-myn line os space rats used for very effective chaos guard!
Dreamforge Games have a great range of stormtroopers that work well for Tempestus Scions, or maybe as veterans.
Statuesque Miniatures do some really cool female resistance fighters that would work really well as cultists or irregular guard.  As well as squaddies, they do a few special weapons, heavy weapons, snipers and commissars
Raging Heroes don't currently produce many models. but are launching three full female guard army lines, loosely matching Steel Legion, Valhallan and Penal Legion Imperial guard lines.  At the moment, they do a small number of female officers which are great as commissars or custom commanders.
Victoria miniatures do a tremendous range of guard alternatives, as well as bits for customising any GW troops you may get.  If you want a custom regiment, or decent female troops, this is the place to go.  Their Arcadian rifles look absolutely cracking models.
Puppets War do a few squad options, but I'm not amazing taken by them, to be honest.  What I love, though, are their rough rider options, on motorbikes with lances.  Its something that has come up in the novels a few times, so it'd be good to see on the table.
Scotia Grendel do some interesting lines from the old VASA and Urban Mammoth games, which could easily be adopted for Imperial Guard.  Here's one of their VASA squads, for example.
Maxmini do some great catachan alternatives, female alternatives, and a few space ogres for some Ogryn fun.
Mad Robot Miniatures have some brilliant conversion parts, but you can get complete guard squads in various looks.  Decent Valhallans are always a bonus these days, especially if you have most of an army already!
Space Marines
Mantic Games have a line of Enforcers.  While quite a different look from the traditional space marines found in GW, the equipment ties up quite nicely.
Puppets War have an interesting range of heavy armoured troops that would also do quite nicely, including strike (power) armours, and terminator armour in a range of configurations – even bikes and vehicles.
Scibor do some amazing marine style models.  Most of them match to more extreme versions of the various Space Marine Legions inspirations – Spartan for the Imperial Fists, Roman for the Ultramarines, Celtic for the Space Wolves, and so on, though there are some more unique ones, like egyptian options too.
Hitech Miniatures do some really interesting models, and again, break into groups that match the SM legion inspirations – more extreme than the very similar GW ones.
Kabuki Models do a great line of possible Primarch alternatives.  Less appealing now Forgeworld are producing official models, they are still gorgeous pieces in their own right.  Here is the Castellan Knight.
Eldar
I've never really found any good third party Eldar like models in army like levels.   That may change when Mantic Games get around to releasing their Asterian line of Space Elves!
Chapter House Studios do some great commanders on jet bikes, and also do a unique aspect warrior squad – Warp Stalkers – that looks like it'd run as howling banshees.
Dark Eldar
Raging Heroes are the current queens of the non GW Dark Eldar!  Not only do they have a really lovely female archon, succubus, and squads of "blood vestals" which are perfect for Wyches, it looks like they'll be expanding their line in the future too!
Orks
Orks are tricky.  There aren't generally huge numbers of space ork alternative models out there, though there are fairly large numbers of passable alternative vehicles.
Mantic Games do offer a large line of Marauders which would work well for Orks, both infantry and light vehicles.
Raging Heroes do a fabulous sci-fi ork warmaster, which would be amazing as your army warlord!
Puppets War do a fantastic range of Orky vehicles and planes, like this:
Adepta Sororitas
Well, I've never found any great models here for ladies in power armour.  Heck, its almost impossible to even get them from GW!
Having said that, it looks like Raging Heroes are planning on producing some nuns with guns options in the future – look here!
There are a couple of options that can be adapted from Privateer Press – Protectorate of Menoth.  I really like the Daughters of the Flame as Death Cult assassins as part of an Ecclesiarchy Battle Conclave.  Picture from Firestorm Games.
In addition, I think the Harbinger would make a brilliant alternative to Saint Celestine:
Imperial Knights
There's only one real alternative to Imperial Knights out there – and that's DreamForge Games Leviathan!
Necrons
There aren't huge amounts of Necron alternatives out there either, unfortunately.  The best selection I've seen is from Puppets War. which has a reasonable range of things, like an enormous cyber spider (scarab) swarm.
There's a C'Tan alternative too
And a couple of vehicle and canoptek spider options.  No basic troops at the moment though.
Squats
Well, there are a few options for the die-hard squats fan still.
The first is Mantic Games, whose Forgefather range is pretty extensive, and just the sort of thing you want from your Space Dwarves!
The second option I've come across is Hasslefree Miniatures range of Grymm.  You can't beat some of these models for character:
Tau & Tyranids
Unfortunately, I've never come across anything that really works well for these!  There are a lot of Mycetic spores for Tyranids out there – but GW axed them from the codex.  Tau is a very unique look – there are some female Tau kits from Zealot Miniatures, but no full squads I've come across.  Some people have used Robotech type models in place of the crisis and riptide suits, but thats a step further away from the Tau models than I'd go normally.